Prauge is a very beautiful city, especially in December when the Christmas markets are on the go.  Here are my thoughts and musings after a long weekend trip there last December. We flew from Edinburgh to Prague using Jet2.com - very easy and quite cheap.  You may hear "horror" stories about being ripped off by taxi drivers and to make sure you book a transfer from the airport.  These transfers will cost around £40 return.  We chose to find our own way into the city from the airport.  Get on the 119 bus to Dejvicka metro station (it's the bus terminus so you won't get lost) and from there take the underground into the city.  It cost us £0.80 each, eachway - a total of £3.20!  The metro, trams and buses are all linked in that the same ticket does all.  You pay about £0.80 for 75 minutes and you can jump on and off as many times in the 75 minutes you want. We stayed at the Hotel Cloisters, a very comfortable hotel in the old town close to all the attractions.  We were 5/10 mins walk from the river, the Old Town Square and Wenceslas Square.  Highly recommended! We found that in most places communication with the locals was very easy, with most understanding basic English (very humbling really). Food stops / eating places were plentiful and you could eat in "any country" you wanted.  Price-wise things were not cheap, probably because of the poor exchange rate, and food/drink were costing about the same as the UK. Whilst the transport system is excellent (and cheap) we walked a lot.  The city itself is very compact and is best savoured as a pedestrian. Our favourite places were the Old Town Square, Wenceslas Square, Prague Castle and anywhere along the river.  Whilst you are there take in an ice hockey game, you'll love it!
  Prague Castle as seen from the river side downstream of Charles Bridge.      
    The Old Town Square and the Christmas Markets as seen from the Clock Tower.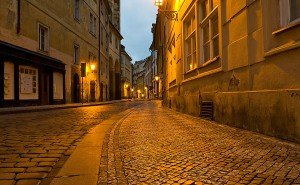 A quaint street in the Old Town, taken at 5am before the throngs started to arrive.